UWIN Guarantee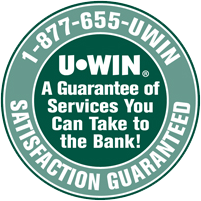 UWIN is a consumer service resource that allows elite home services contractors to provide an extra level of protection and peace of mind to residential home service consumers.
When you do business with a UWIN endorsed contractor, you will have an employee working in your home who has been drug tested, background checked, and properly trained.
Our company agrees to the UWIN Code of Ethics, carries current liability and workers' compensation insurance and is licensed by all appropriate government agencies.
Code of Ethics Includes:
We conduct random drug testing of every employee on an ongoing basis.
We do complete background checks on all field employees as the law permits.
We offer a 100% satisfaction guarantee.
We maintain the highest degree of customer service.
We provide UWIN with all information requested regarding your transaction.
We allow UWIN to make a final decision regarding any customer resolution.
We must properly train all technicians and sales people before sending them into your home.
We agree to provide our customers with the best quality service, materials, labor, expertise and craftsmanship.
We agree to always adhere to all laws, regulations, and ordinances that govern our service area.
We practice proper financial and accounting procedures in accordance with all local, state and federal laws.
Our Difference
How do you know a company cares about the quality of their work? They stand behind it - that's how. At Mister Sparky, the warranties and guarantees are industry leading because of our experienced technicians and the high quality parts we use. Our technicians are friendly, clean, polite, drug-free and experienced--and our techniques are state-of-the-art, guaranteed!
A Family Of Home Services:
Strong partnerships and a national support system.